We are glad to inform you that on January 28th, 2021, the Estonian Government granted us the licenses for being able to sell our token.
The Estonian Government changed the requirements needed for getting and keeping licenses grating rights for selling virtual currencies (https://www.riigiteataja.ee/en/eli/502122020004/consolideand) we have been working on this since we were informed, on July 7th 2020, that we didn't comply with new requirements.
These are the details of our new license:
License number: FVT000423
Area of activity: Providing a virtual currency service
Type of activity: 
1)Providing services of exchanging a virtual currency against a fiat currency
"It allows exchanging fiat to crypto, crypto to fiat".
2)Providing a virtual currency wallet service.
"It allows providing virtual currency (hot and cold) wallet service in the framework of which the company generates keys for Clients or keeps Clients' encrypted keys, which can be used for the purpose of keeping, storing and transferring virtual currencies.
3)Providing services of exchanging a virtual currency against a virtual currency
"It allows exchanging crypto to crypto".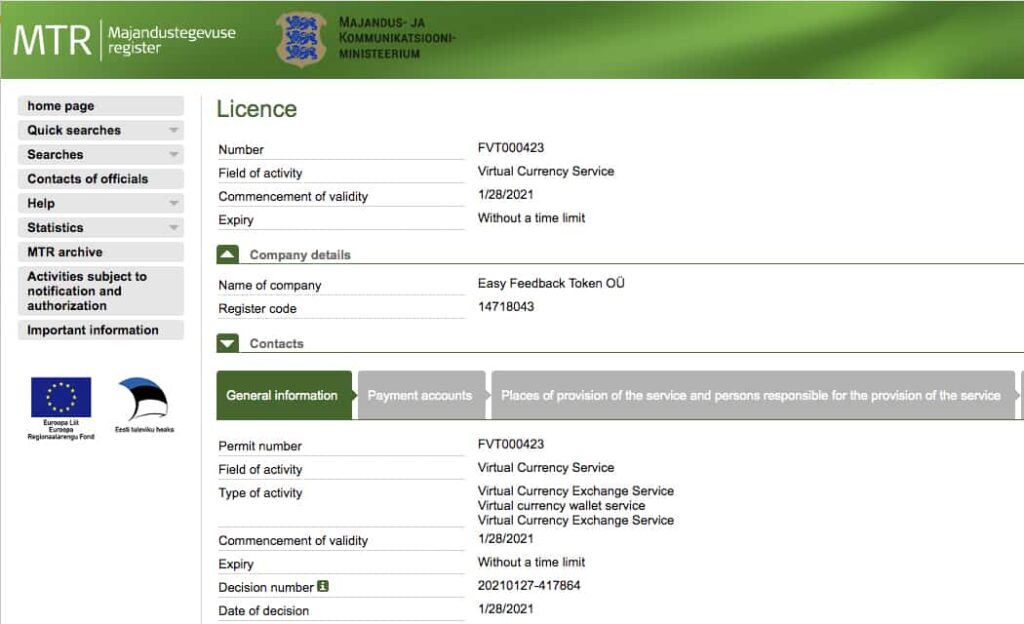 Moreover, we continue hard at work according to the road map:
Smart contract audit: On June 26, the very well-known CyberSecuirty services company Red4Sec (which has provided services to famous crypto projects such as Neo, QRL, nano…) successfully audited our Smart Contract.
If you have any question, please write us at [email protected].
Join  our Telegram group and follow us on Linkedin, Twitter and Facebook in order to be up to date with the project.
The EasyFeedback team