EasyFeedback PRO

Subscription
The private feedback platform
built for listening to your customers and building trust in your business
We accompany the growth of companies that want to:
Our PRO Subscription includes:
1. Omnichannel Certificate for
Excellence in Customer Service
The omnichannel certificate for Excellence  in Customer Service identifies those organisations committed to listen to their customers' suggestions, queries, complaints or compliments in order to improve their processes.
We are a private independent third party between customers, employees, and the organisation's management.
We certify the commitment from the organisation's management to listen their customers in order to achieve Excellence  in Customer Service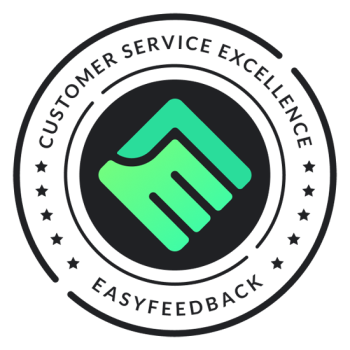 Supporting patents: eu, M 3602484 and eu, M 3602485.
2.
Feedback Collection
System
In addition to the listening systems you already have in place, our tools allow you  to initiate the feedback capture process from all channels used for pre-sales, sales, and post-sales activities.
Our system provides the ability to digitise customer listening throughout their relationship with the company, across all parts of the organisation, especially at key 'moments of truth'. Every contact is a new opportunity to listen and build customer loyalty through our listening channel.
Customer Company Page on EasyFeedback
Each point of contact is a new opportunity to listen and build customer loyalty through our listening channel.
3. Private Feedback Management Process
Collect and integrate the voice of the customer from start to finish.
Selection of
feedback type
The feedback arrives in real-time.
Partial or complete
closure of the loop
Access to
EasyFeedback PRO tools
Measuring the quality
of responses
PRO + STAMP
from 15€ per month

It is a very interesting tool because customers engage with the company in order to help us improve.
Patxi Sánchez
Manager GastroBar Moka
EasyFeedback is helping us to meet our customer service excellence objectives.
Luis Mujika
CEO Volvo Autosuecia
Virtually any company that wants to efficiently and safely improve customer feedback management can implement this tool, we highly recommend it, the team behind it is very attentive and the experience with the system is even better.
Nacho Latre
Communication Manager - Naria (Nadie sin su Ración Diaria)
We chose Easyfeedback to complete the activities so that the customer could express their opinion and feel listened to. In addition to emphasising that there is a firm commitment on the part of the company to listen and serve them. We recommend this service to all companies that want to know the opinions of their customers in order to be always alert and that this will make you improve.
Mª José Gallardo
Customer Experience Manager
It is like opening a window for our customers so that they can share their suggestions, complaints and, why not, also their compliments, with us. Everything customers consider that might help us or that we must change or innovate. We believe it is very useful both for them.
Rafael Velázquez Goya
Owner Goya Confituras
In the Mancomunidad de Mairaga we need to measure satisfaction as part of the compliance with ISO 9001 and ISO 14001 regulations. In the four years that we have been working with EasyFeedback, they have helped us measure the satisfaction of 20 populations and, with the feedback obtained, improve our services in a process of continuous improvement. In addition, they have contributed to us being able to improve our database, always with the Greater professionalism and meeting the deadlines indicated. I recommend working with EasyFeedback for the professionalism and closeness that they show, they make the processes easy and their team has been at our disposal to any query.
Luis Santesteban Arana
Quality Manager Mancomunidad de Mairaga
EasyFeedback is a very interesting tool for listening to customers. If you don't know what your clients think, you will not be able to improve your company's sales strategy. With this tool, you can listen to them privately, without the entire internet being able to see it (Tripadvisor, Booking, etc. where sometimes the comments are so negative that they might destroy your business). With EasyFeedback you will know what your customers think about your service, your establishment, your staff... but always privately, that is the key.
Amaya Villanueva
Ensanche Comercial Area Manager
Yes, I would recommend it. To build public and employee confidence in the business, to provide better service to customers and to protect the reputation of the brand.
Hansel Fernandez
tuSpeaking CEO
Plénido Dental has joined the commitment to Excellence in Customer Service in order to improve it and ensure that suggestions, queries, complaints and compliments reach me directly.
Luis Tejerina
CEO Plénido Dental